Our bathroom remodeling is of the highest quality, exceeding industry standards.
Our quality bathroom remodeling projects are very affordable!
With over 25 years of experience, we guarantee quality service!
We provide free estimates for your bathroom project, so give us a call today!
Welcome to Webster & SonsQuality Bathroom Remodeling at affordable prices!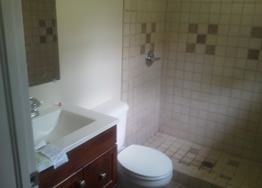 We have been providing quality service to Winston-Salem, N.C. and surrounding communities for over 25 years! Call us for a free estimate on your next bathroom project.
- Winston-Salem, N.C. bathroom remodeling
- Also serving Greensboro and Kernersville
- Simple repairs to complete new bathrooms
- Licensed and insured, affordable quality!
- $3500-$4800 Shower/tub enclosure special!
- Call us at 336-992-2503
Testimonials: